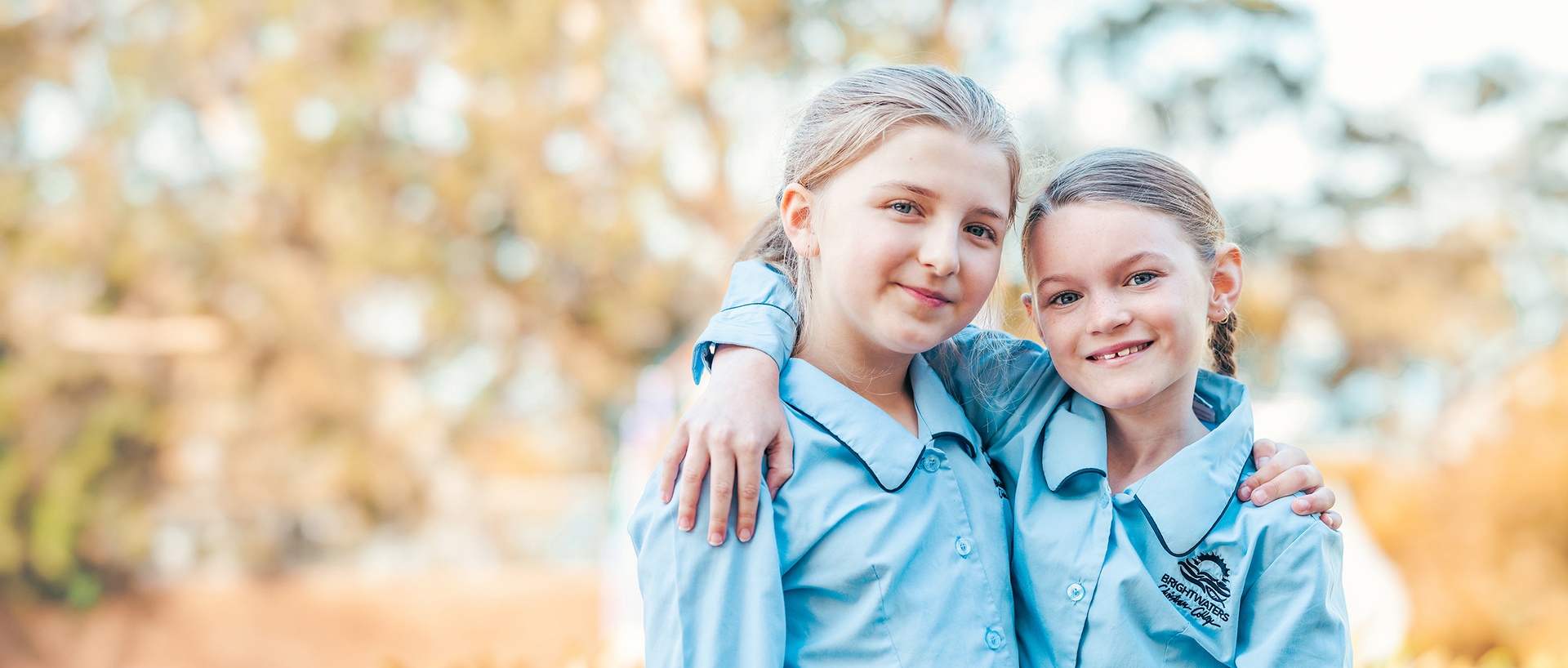 A Christian School on Lake Macquarie
Welcome to Brightwaters Christian College
Brightwaters Christian College is a K-8, co-educational Christian school located near Morisset, New South Wales.
Joyful relationships sustain a flourishing community
At the heart of our flourishing school community on the edge of Lake Macquarie are joyful relationships between students, teachers and parents.
As lovingly created beings, we are hard-wired with a desire for relationships. Humans thrive when engaged in gracious relationships where we don't hold wrongdoings against each other but forgive with kindness.
Research indicates that healthy relationships in schools are foundational for student achievement. They support increased student engagement, motivation and academic results while reducing absenteeism and discipline issues. Further to this, the presence of at least one supportive relationship develops resilience in children. When children share a strong connection with a caring adult, they develop essential coping skills.
We encourage our students to look to the needs of others and encourage one another thereby experiencing relationships that are overwhelmingly joyful.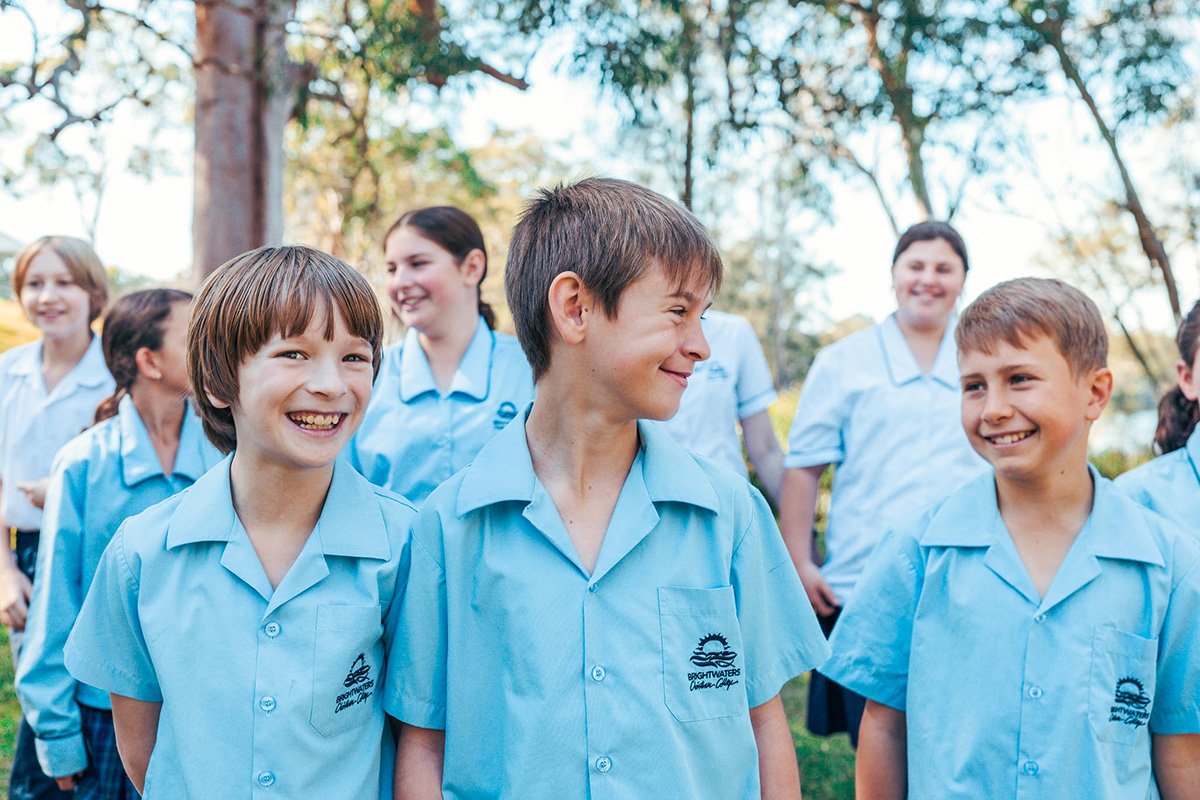 What Our Parents Say
Parents are the best advocates for our school. Our community flourishes because parents partner with our teachers in the best interest of the children. Here's what some of our parents have to say about Brightwaters Christian College
Academic results worth celebrating
Students join Brightwaters Christian College (near Morisset) with diverse academic abilities. Some have already experienced success with their learning, others have experienced struggles. Our focus on progress sees lower achieving students improve and those students who are confident apply their skills and understanding to new learning opportunities. We are blessed with an experienced team of teachers who have a passion for children and a passion for teaching.
Our experienced teaching team draws from a range of teaching practices to accommodate the students' learning styles, and each teacher holds high expectations for the progress of the students in their class. Students learn best when engaged in a supportive relationship with their teacher.
Our students are continually challenged but unconditionally loved. They have teachers who notice them, ask about their interests, listen to them, laugh with them and believe in them. Our students are well known, well loved and well taught by teachers who want the very best for them. Every student is a unique creation of a loving God who has a purpose for their lives. Our teachers help students identify this purpose and realise their fullest potential.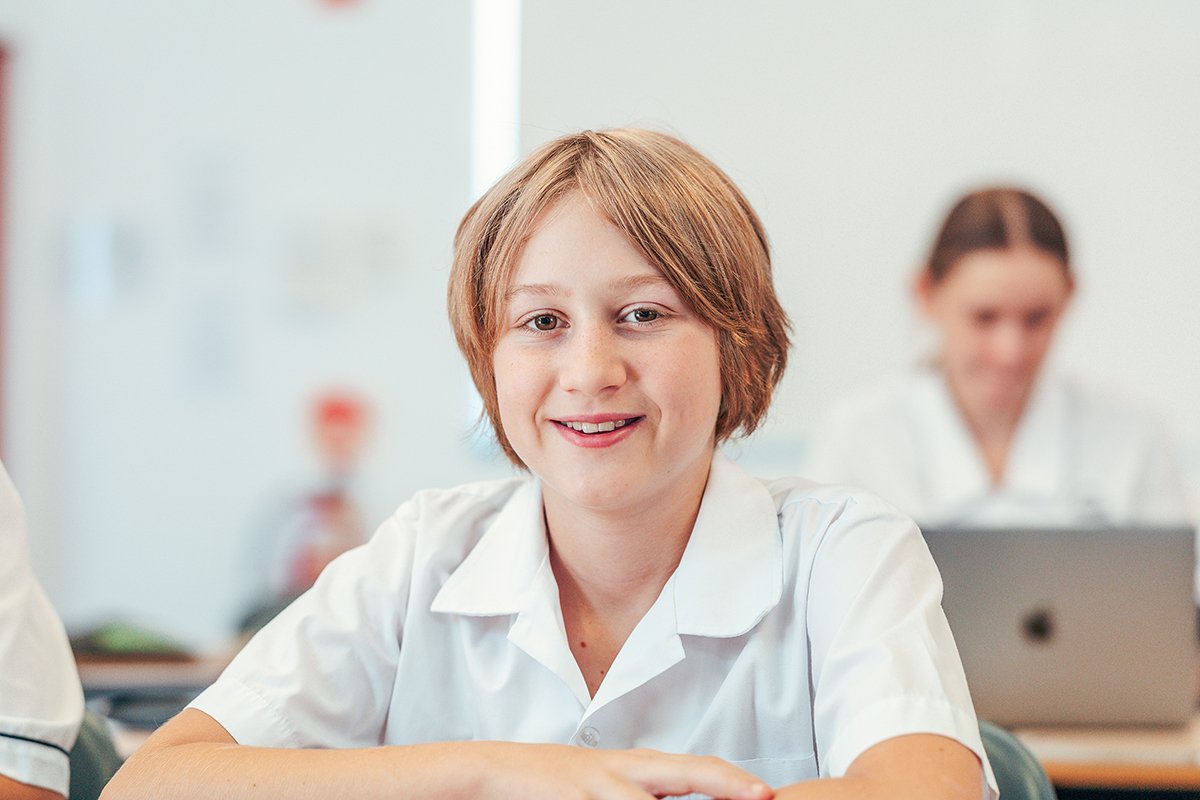 Complete Wellbeing
When parents first approach Brightwaters Christian College they say they want their children to be happy and safe at school. This area of school life, which sits outside academic and cocurricular programs, is commonly referred to as 'wellbeing'.
Parents want their child to have a healthy body, wise mind and vibrant spirit. They're referring to a whole-of-child approach to wellbeing that covers body, mind and spirit.
The Biblical concept of wellbeing is captured by the Hebrew word "shalom" which means peace, harmony, prosperity and wholeness. Shalom may be considered 'complete wellbeing' — in every facet of life. This complete wellbeing flows out of a person's relationships being made right — with God and with others.
At Brightwaters, we seek to foster a healthy balance of physical, mental and spiritual development for students. This is a thriving community where students are encouraged to forgive, be diligent in their learning, create, respect, empathise, think, repent, question, confess, reflect and celebrate.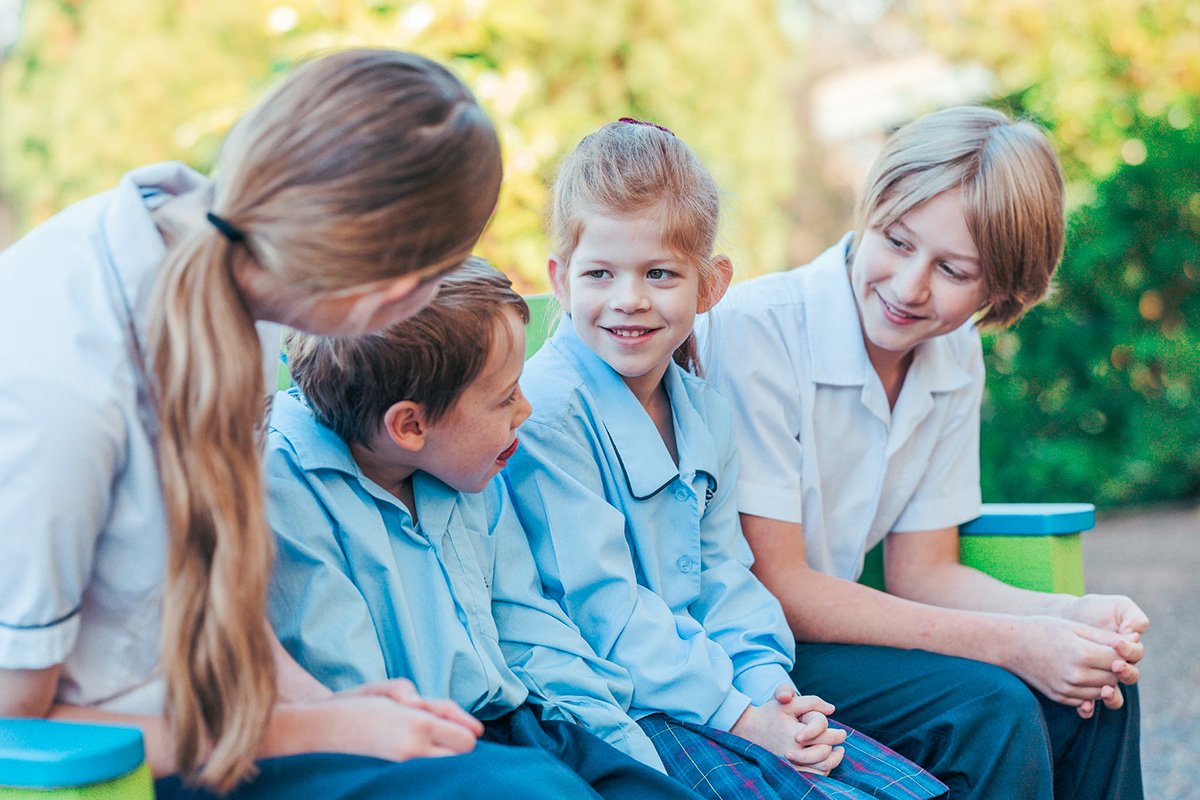 BYOD - Mastering technology, minimising screen time
21st century parents are rightly concerned about the amount of time their children are spending on screens. It seems like their child is on a laptop at school all day and has their smartphone attached to the end of their arm at home.
At Brightwaters, students learn about the potential dangers of technology to their wellbeing — over use of anything is unhealthy. Students are taught how to use technology effectively without becoming a slave to it.
Brightwaters has clear policies on technology use and students are expected to live up to the expectations set. As a BYOD school, we use technology to enhance learning while teaching students to be critical online consumers and responsible digital citizens. We are preparing students to thrive in a technologically complex world.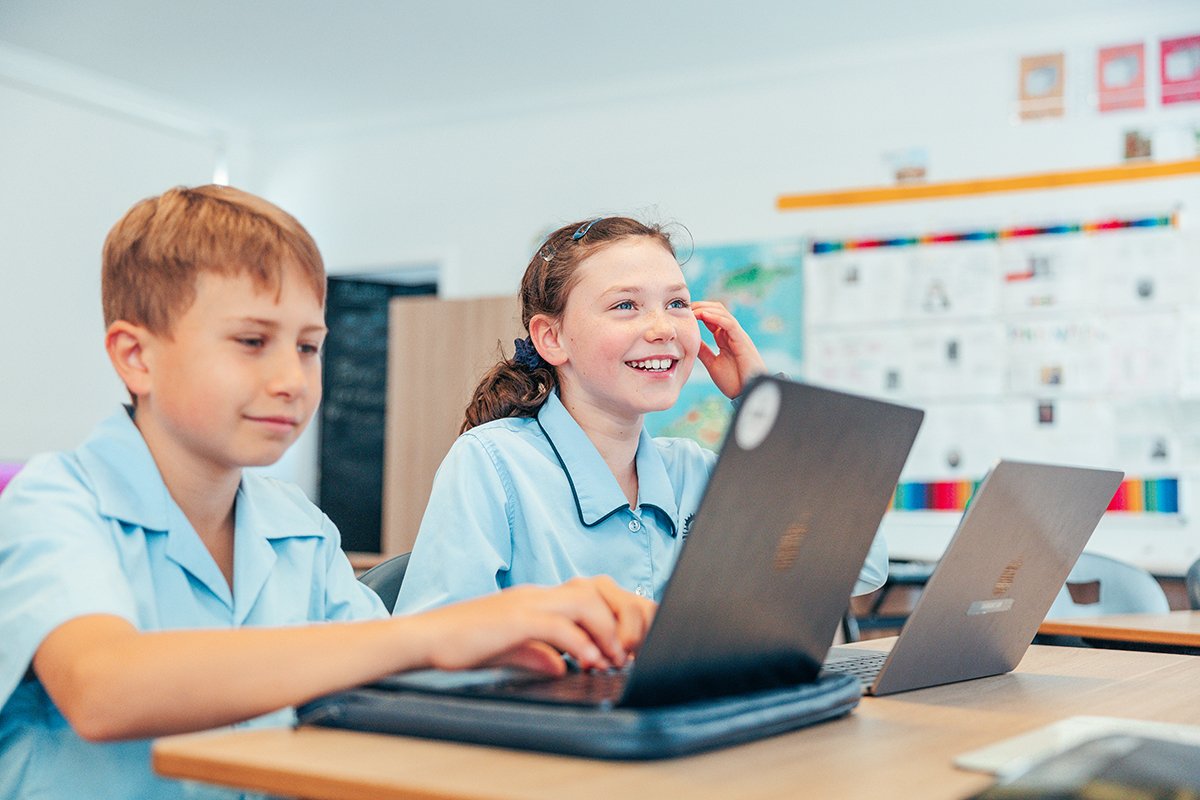 Discipline - When students make poor choices
Discipline is part of the learning journey and viewed within a biblical framework of care and a desire to restore fractured relationships. As young people, students are still learning how to relate in supportive ways and so some degree of conflict among students is inevitable. Having said that, our students are expected to behave in accordance with our code of conduct and staff have guidelines which allow them to respond to unacceptable behaviour and choices with appropriate consequences.
Students are taught through our Peacemakers program that actions, attitudes and choices have consequences - both positive and negative. Parents and teachers in our school community see discipline as foundational in equipping students to live lives which are God honouring, respectful to authority and thoughtful of others in the community.
Brightwaters staff encourage positive relationships, are consistent in how they treat students, confront issues of unacceptable behaviour, consider not just what students do but why they do it and are prepared to acknowledge their own learning journey. This approach to discipline fosters the overwhelmingly positive culture at the school.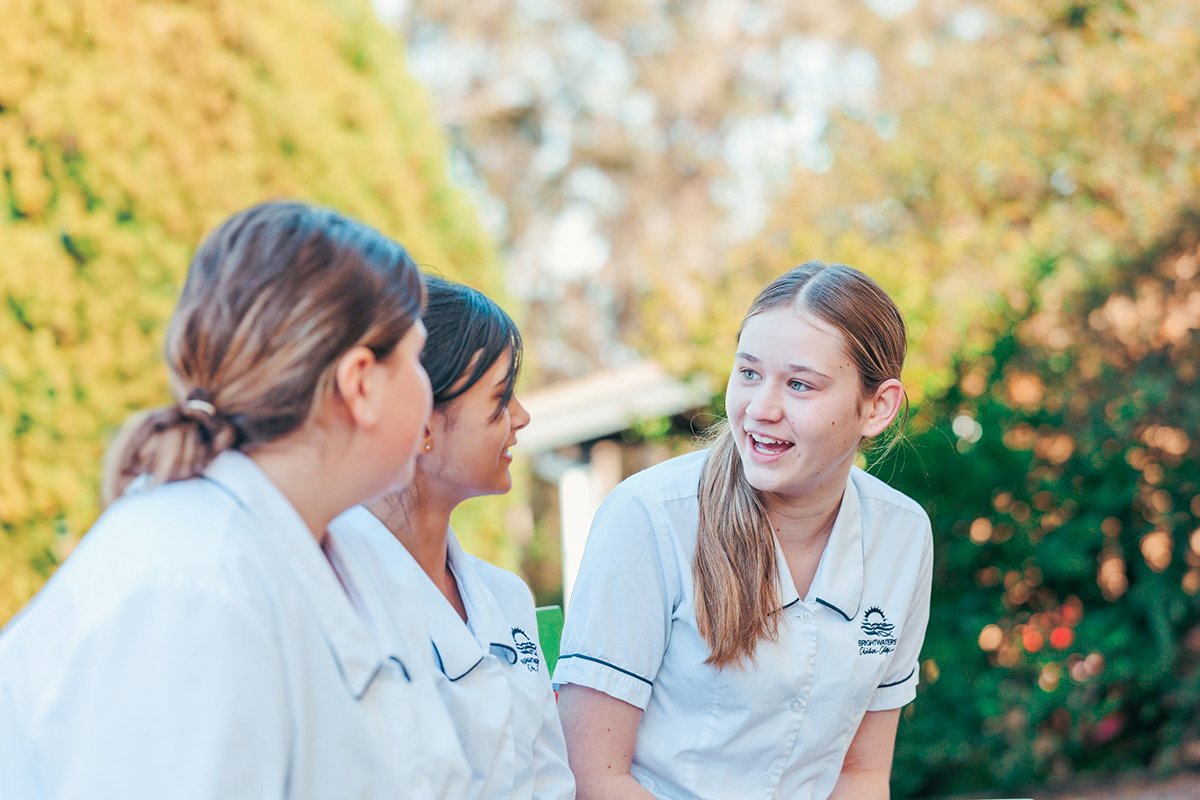 Diverse abilities - Round pegs in square holes
Children want to fit in and be accepted. For children who are gifted or have special learning needs this can sometimes be challenging.
All students are equally valued at Brightwaters Christian College. We create an atmosphere where every student — regardless of their ability — can flourish as a valued member of our community.
Students who are academically gifted or who have special needs may be at risk of disengaging from learning if they're not identified and catered for appropriately. We provide extension and intervention programs which allow every student to advance beyond what they believed possible.
We help students with diverse abilities and backgrounds thrive. Whether your child is gifted or has special needs they won't feel out of place at Brightwaters Christian College.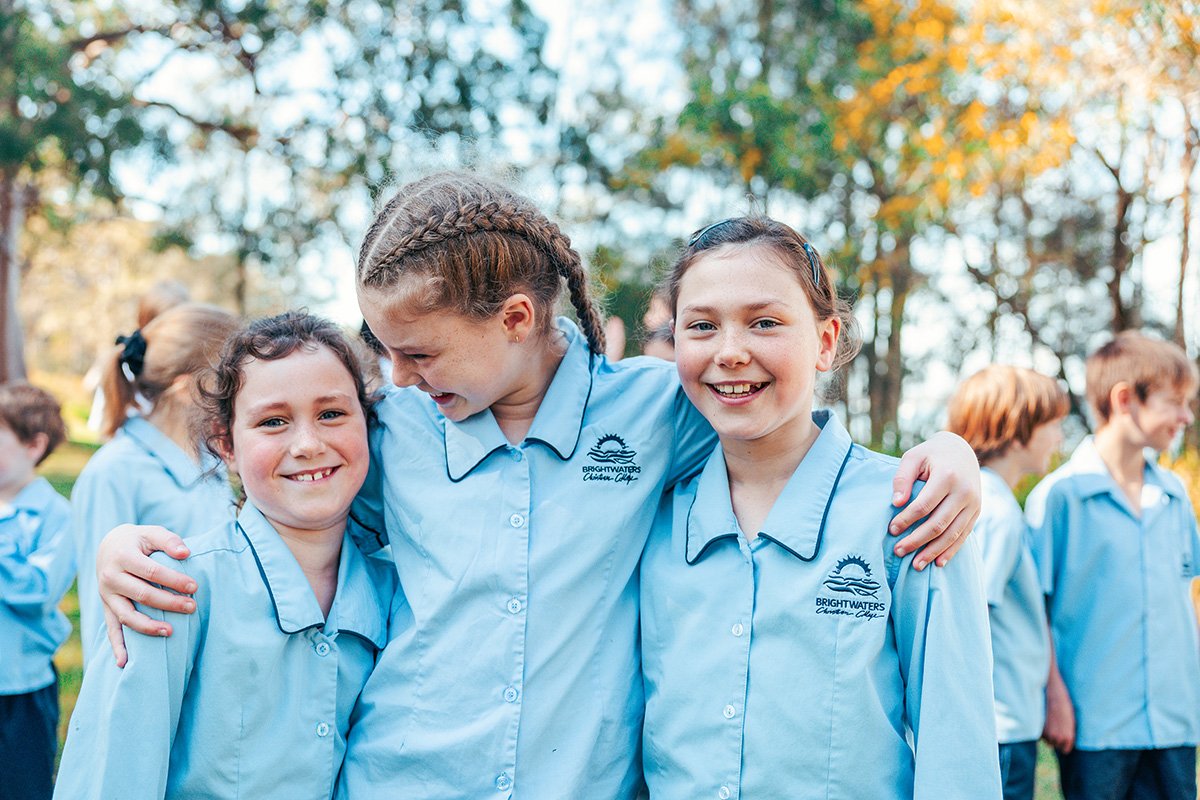 Beyond the classroom
Learning can also occur in settings outside the classroom. To ensure this learning which happens beyond the classroom flourishes, the school offers a range of co-curricular options.
Performing Arts
The Arts allows students to express their unique personality. Students are engaged in an integrated arts program from Kindergarten to Year 6.
Physical activity and sport
We develop students who are holistically healthy. This means they are balanced across all areas of health — mental, spiritual, social, emotional and physical.
In practical PDHPE lessons, students experience a variety of sports, games and physical activities which gives them the skills and endurance necessary to develop a healthy and active lifestyle.
Students are given opportunities to participate in team and individual sports within non-competitive and competitive environments. Our sport program involves all students in a range of activities, providing an opportunity for individuals to shine and for all students to function within a team environment. Students are encouraged to strive for their personal best, while demonstrating exemplary sportsmanship.
We partner with our regional CSA schools for Swimming and Athletics Carnivals, as well as participating in Zone or State carnivals. Every year we send an enthusiastic delegation to the CSSA State Cross Country.
Brightwaters encourages students to be involved in Community Sport with other Lake Macquarie schools and we recognise their achievements in these fields of success.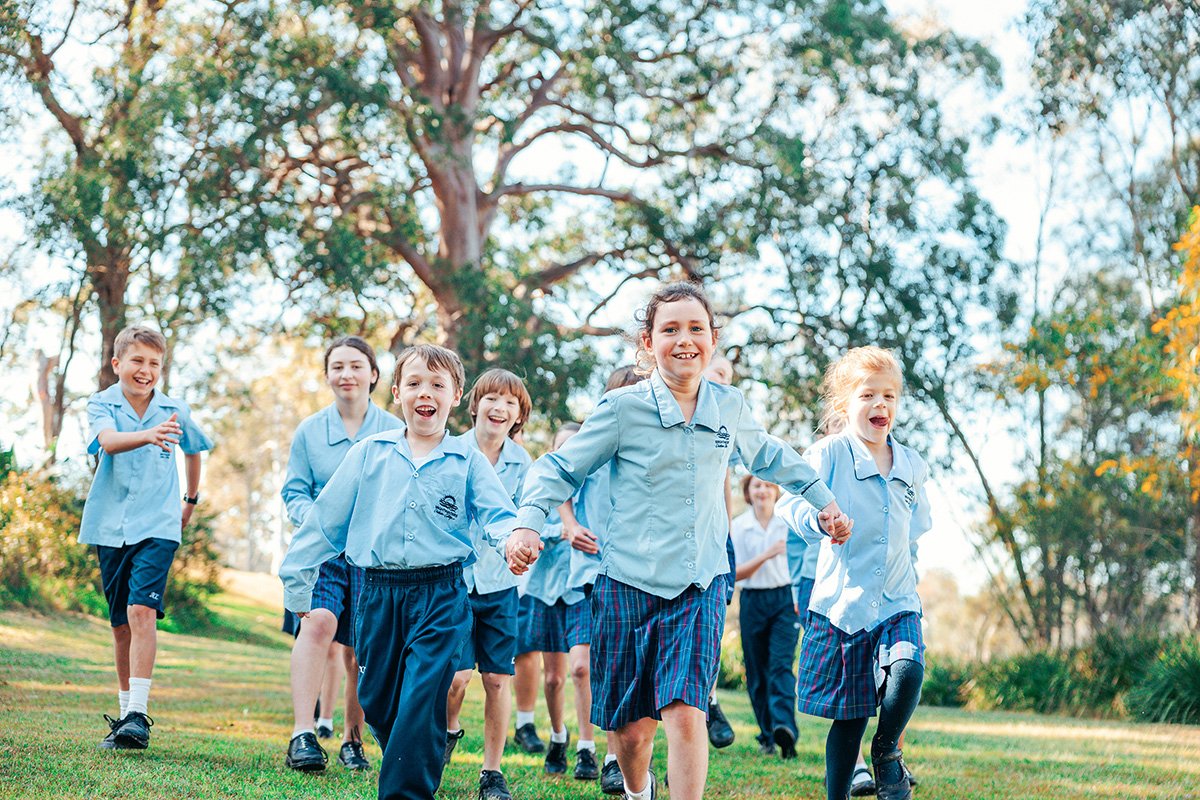 Parents are vital partners in education
When joining the Brightwaters school community, you will receive a warm welcome as will your children. You see, 'community' is one of the key areas which we encourage and foster. We want new parents to immediately feel welcomed and connected.
We welcome parents who believe in a genuine partnership with the school and value open communication about their child's development and wellbeing. Parents who understand the positive impact of encouragement, as well as the unity experienced in authentic community appreciate being part of Brightwaters Christian College.
Families are offered small previews of celebratory moments via social media and they can speak positively into a child's learning as it is occurring. Weekly assembly award ceremonies and our Annual Celebration Service are significant community gatherings which allow students to celebrate their achievements and accomplishments with a larger audience.
"It takes a village to raise a child" resonates deeply for the Brightwaters community. The wisdom and care of each member has an impact on every individual student. Our School Support Group is one forum for interested families and community members to make a significant contribution. Classrooms are also open to family members who wish to impact directly into a child's learning experience.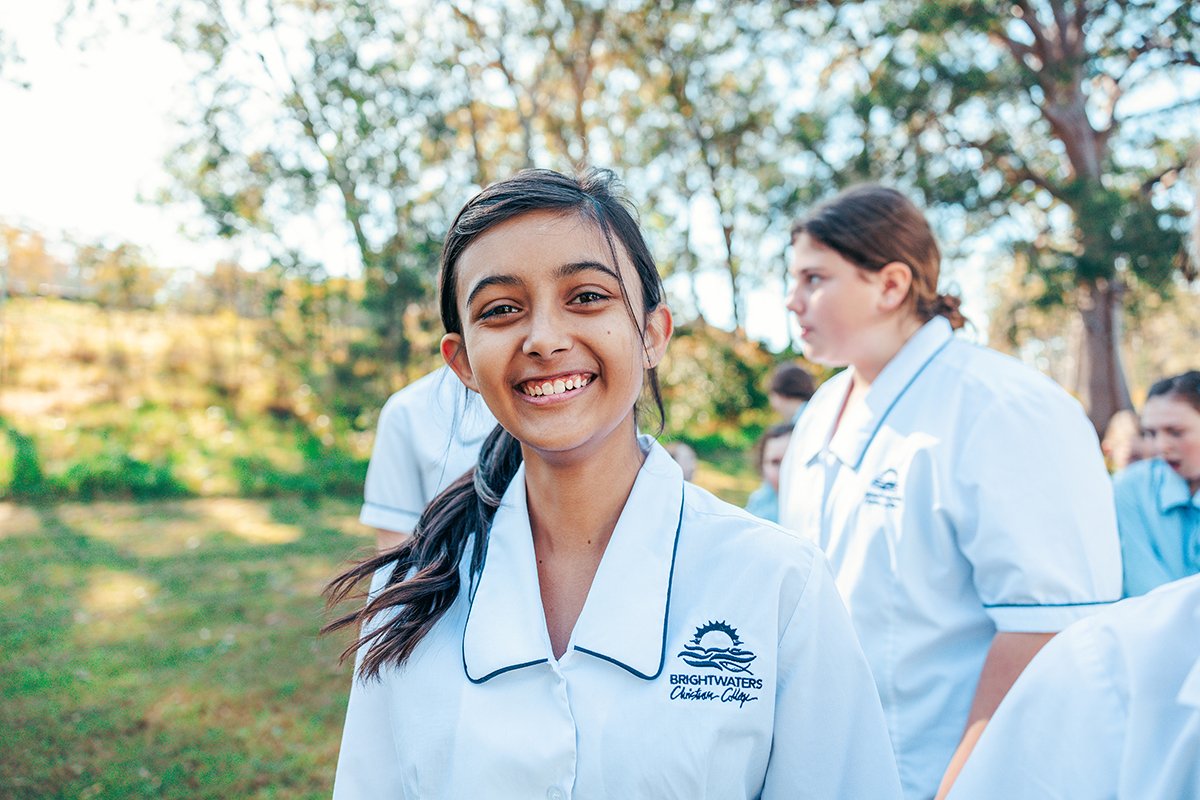 Getting to and from school
Whether you live in Morisset, Wyee, Mannering Park, Cooranbong, Dora Creek, Martinsville or anywhere else on the south western shore of Lake Macquarie, Brightwaters Christian College is easily accessible.
Coordinating how your children will get to and from school every day is an important consideration for most families. At Brightwaters Christian College, we have several transport options.
For parents transporting their children in private vehicles, the lower carpark is available if you wish to park before or after drop off or pick up. There is also limited parking on Bulgonia Road. Plus, there is a "Kiss and Drop" zone at the lower end of the access driveway.
The school is close to train and public bus routes. Please contact your nearest bus company to find the most convenient bus service to your home. Relevant bus forms are available from the school office as are OPAL Card applications. We also have our own private buses driven by volunteers. Please enquire at the school office regarding routes and costs.
What to wear
Brightwaters Christian College has a customised and affordable uniform for winter, summer and sport. The uniform has been specially designed to capture the school's uniqueness and Lake Macquarie location. New uniform items can be ordered via the school office.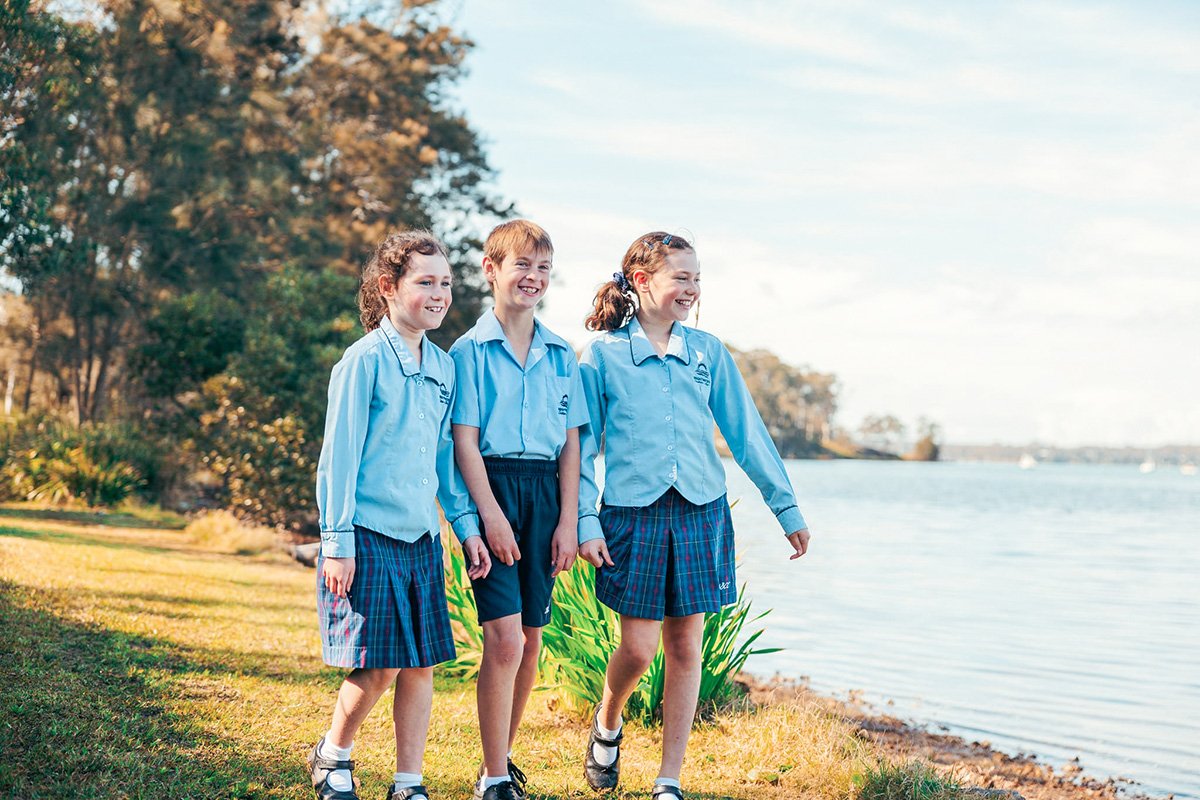 Pre-Kinder School Readiness Program
You want your child to start 'Big School' with confidence and a sense of excitement for the learning ahead.
Our Pre-Kinder School Readiness Program introduces your child to the routine of big school in a gentle, caring way. On each visit, your child will become part of their class group and participate in the varying facets of school life.
The program has been purposefully designed to identify your child's learning strengths or areas where they might need support. There is also a focus on the development of gross and fine motor skills so vital in all areas of learning.
Your child will develop school-ready skills including:
Meeting other children and building friendships.
Enjoying literature and understanding characters or themes within stories.
Using maths in practical and fun ways.
Enhancing their ability to communicate with others.
Scissor and pencil skills.
Managing lunch boxes and following school routines.
Developing fundamental movement skills.
For the parent who wants their child to start big school confidently, our Pre-Kinder School Readiness Program is ideal at only $150 per term (payable a term in advance).
Call (02) 4973 2591 to book a Campus Tour with Michelle to see the Pre-Kinder program in action.
Pre-Kinder Parent Resources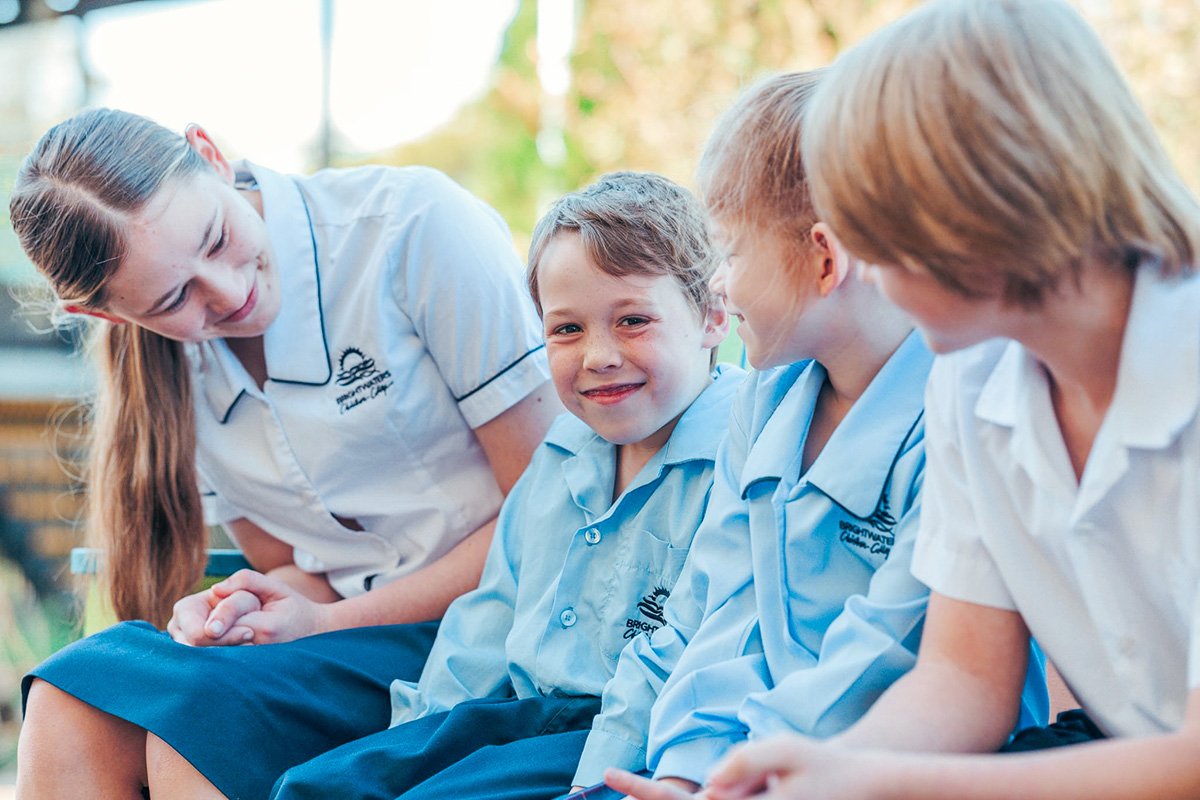 SCHOOL FEES
A great value education for parents who want more for their children
From less than $7 per day your child can attend Brightwaters Christian College.
To maximise affordability we provide multi-sibling discounts in addition to our already low fees. Also, school fees can be paid in ten monthly payments or upfront annually (with a small discount applied).
2024 Fee Schedule
| Years | 1st Child | 2nd Child | 3rd Child | 4th+ Child |
| --- | --- | --- | --- | --- |
| PreKinder (4yo) | $975 | $975 | $975 | $975 |
| Years K-6 | $2,775 | $2,440 | $2,080 | $0 |
| Year 7-8 | $3,245 | $2,855 | $2,435 | $0 |
2023 Fee Schedule
| Years | 1st Child | 2nd Child | 3rd Child | 4th+ Child |
| --- | --- | --- | --- | --- |
| PreKinder (4yo) | $930 | $930 | $930 | $930 |
| Years K-6 | $2,645 | $2,330 | $1,985 | $0 |
| Year 7-8 | $3,090 | $2,720 | $2,320 | $0 |
In addition to the above fees you will also need to budget for uniforms, personal technology devices and public transport (if applicable).
We suggest developing a household budget to make sure school fees are factored into your regular expenses. While sacrificing for the sake of your children's education is a good thing to do, we do not recommend overstretching financially as this can place an unnecessary burden on your family.
At least six term weeks notice in writing is required for withdrawal of students. Insufficient notice may result in additional fees being charged.
Additional Costs:
Fee Estimator
Please enter the year levels of each child you are planning on enrolling:
Open Enrolment
Brightwaters Christian College has students of Christian faith, of other faiths and of no faith position. Enrolment is open to all families regardless of religious affiliation or non-affiliation.
Our school allows students to explore the Christian faith without demanding commitment. Our approach to faith development is to present the Gospel while living it out in community. The school has a strong culture based on Christian principles, teaches all subjects from a Biblical perspective and employs Christian staff.
The school teaches from an authentically Christian worldview and invites your family to consider the claims centred on the good news of Jesus Christ.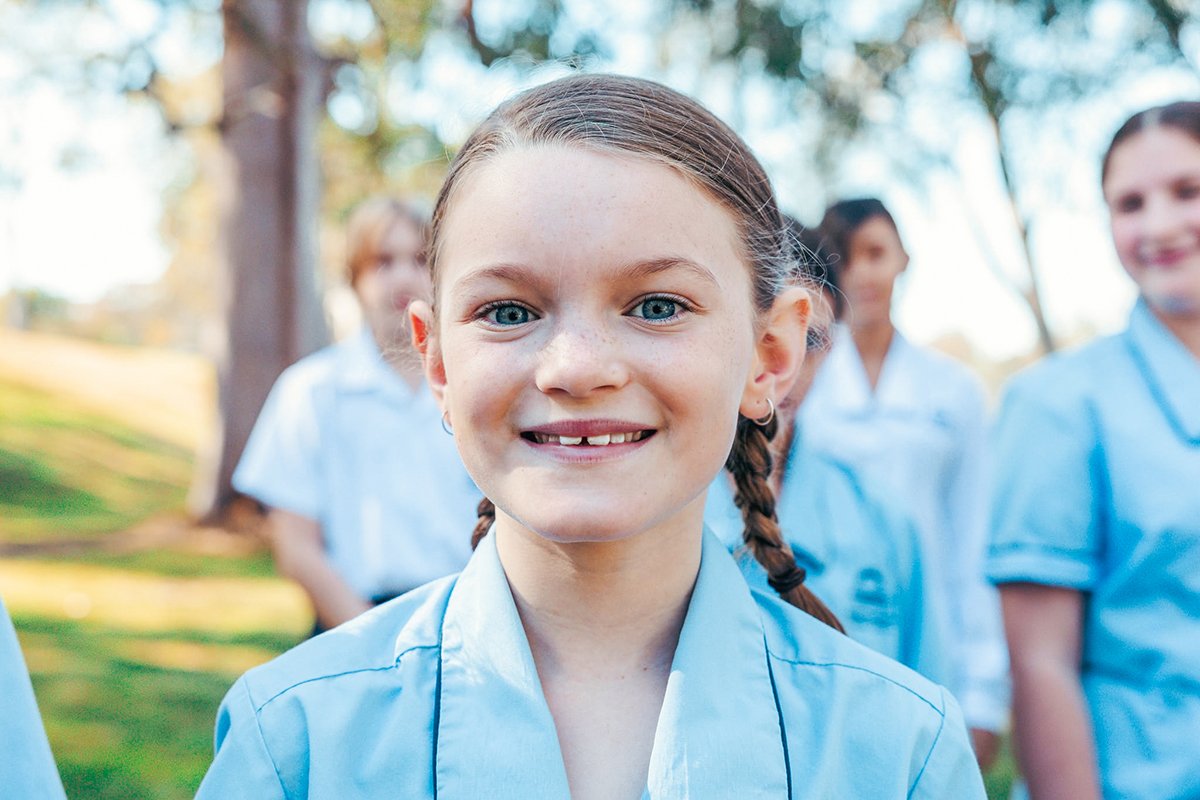 Campus Tours
You're invited on a campus tour with our Registrar, Mrs Michelle Webb. You can meet our teachers, see innovative teaching in action and enjoy the views across Lake Macquarie.
While touring the campus, we'd like to hear about the dreams you have for your children. It would be great to learn what you're looking for in a school. It's also the perfect opportunity for you to ask any questions you may have.
ATTEND CAMPUS TOUR
MAKE ENQUIRY
ONLINE APPLICATION
NEXT STEP
Discover how we would nurture your child's potential, personality and passion.
Attend Campus Tour